How to Get from BWI to DC?
5-minute read
Last updated November 1st, 2023
Here's how. There are 5 common ways to travel from Baltimore/Washington International Airport to Washington DC by train, bus, uber/lyft, shared Shuttle and private car service.
Private Car Service: Tailored to both business and leisure travelers who seek a superior and exclusive service. It provides a luxurious experience that meets the expectations of those prioritizing premium transportation.
Use the following promo code " FROMBWI " to get a discount while booking online on our website:
Uber/Lyft: An excellent option for individuals prioritizing cost-effectiveness without compromising on a comfortable travel experience. Suitable for those who desire a balance between budget and convenience.
Shared Shuttle: An optimal choice for passengers who prefer a more cost-efficient option and have the flexibility of time. It caters to those looking for an economical yet practical mode of transportation.
Bus: Ideal for travelers mindful of their budget, carrying minimal luggage, and who can afford a generous time allowance. It is a practical option for those prioritizing cost over convenience.
Train (MARC and Amtrak): Caters to budget-conscious and adept travelers who are comfortable navigating between rail and bus services. It appeals to those seeking a cost-effective yet savvy transportation solution.
Image credit DCAcar
1. Private Car Service
Hiring a private car service offers a luxurious and personalized travel experience. Executive car services provide dedicated vehicles with chauffeurs to transport you directly to your destination in D.C., with prices starting at around $190. This option ensures a comfortable and private journey, allowing you to travel in style and luxury. The fleet consists of late model sedans, executive SUVs and even fully electric Tesla vehicles for your convenience. They also have 24/7 customer support with live operators to answer all your questions and to help your travel as easy and smooth as possible. When you book with them you can get a concierge service with best restaurant suggestions from the During rush hour this drive can take two hours both in the morning as well as in the evening. Non-rush hour should take about one hour door to door.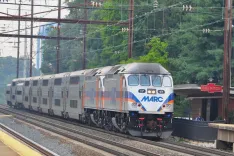 Image credit wikipedia
2. Train (MARC and Amtrak)
Traveling by train is a convenient option. The BWI Marshall Rail Station is located near the airport, and there are free shuttle services connecting the airport terminal with the rail station. MARC trains offer a budget-friendly way to reach Washington, D.C.'s Union Station, with fares as low as $8. Amtrak also services this route, providing a more luxurious journey, but at a higher cost, with prices starting at around $16.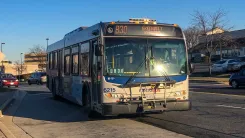 Image credit wikipedia
3. Bus plus Metro
Taking a bus is another economical way to travel. Various bus companies operate services between BWI and Washington, D.C., such as the BWI Express Metro Bus (B30), which costs around $7.50. You will need to hop off at Greenbelt Metro Station from there you can use the Metro to go to your destination in Washington DC. Buses are equipped with amenities like Wi-Fi and power outlets, ensuring a comfortable journey. However, traffic can affect travel time, so it's essential to plan accordingly.
4. Taxi/Uber/Lyft:
Ride-sharing services like Uber and Lyft offer a direct and convenient way to reach D.C. from BWI. The cost varies based on demand and time, typically ranging from $80 to $100. These services provide flexibility and comfort, as you can schedule a ride directly from your smartphone and have a car pick you up from the designated airport pickup area. The main drawback is time of day. Early mornings are almost unreliable as you can wait up to 30 min before anyone accepts your trip. Usually between 1am-7am it is really hard to get a ride at BWI. During the daytime this option makes a lot more sense for those who prefer a less expensive option compared to a private black car service.
5. Shared Shuttle
Shared shuttle services like SuperShuttle and The Airport Shuttle used to provide shared shuttle rides but not any more. Both of their websites are offering private vehicle pricing. Looks lIke Super Shuttle might even be out of business. The website is up, but we could not get a quote nor were we able to connect with their dispatch team.
The Airport Shuttle has 2 options:
Van 13 passengers - $230
Eco Sedan 2 passengers - $152
Super Shuttle has discontinued its famous Blue shuttle van and has only private service similar in prices like The Airport Shuttle.
Conclusion
Choosing the best transportation mode from BWI to D.C. depends on various factors such as budget, time, and personal preferences. Each option has its own set of benefits and considerations, ensuring that every traveler can find a method that suits their needs.