LAX Uber Pickup: Welcome to LAX-it. The New Reality
The usual questions asked at the information counter at Los Angeles International Airport (LAX) are: "Where's Starbucks?", "Where's my gate?", " Where's the restroom?"
However, an information counter assistant at LAX who asked not to be named gets a brand new question and literally hundreds of times a day: "Where's LAX-it? How do I get there? How long will it take?"
It's her job to break the bad news to someone who has arrived at LAX Airport in hopes to get picked up by Uber/Lyft or Taxi at the curbside. Gone are the good old times where you could press a button and a car would show up at your footsteps and whisk you to your destination.
"Get ready, you are in for the airport experience of your life," she says
"You should see their facial expression, their jaws drop," she says, "It happens every single time."
What is LAX-it?
Being the Nation's second-largest Airport is something to be proud of, but having horrendous traffic does not make things any better.
"LAX-it (pronounced LA Exit) is the new way to get your ride. Catch the LAX-it shuttle outside the bag claim on level one, or get your steps in and walk to LAX-it to meet your Taxi, Lyft, Opoli or Uber. The New Way to Your Taxi and Ride App Pickup," reads on flylax.com.
"I loved the old way much better," said Tom, a customer who was waiting at the LAX-it lot for his turn to get into a car. "I just wasted 2 hours of my life," he exclaimed. He was not interested in pronouncing the Lot's new name either. "Who cares how you pronounce it? I should have been home an hour ago."
Tom is not alone: thousands of passengers that were expecting to be picked up immediately upon getting their luggage were in for a surprise. New Lot, new pronunciation and new adventures.
"Nobody notified us about the change," he said, "No email from the airline or the airport, it was a complete surprise to us"
Below on this first image is a birds-eye view of the airport and the location of the new pickup Lot.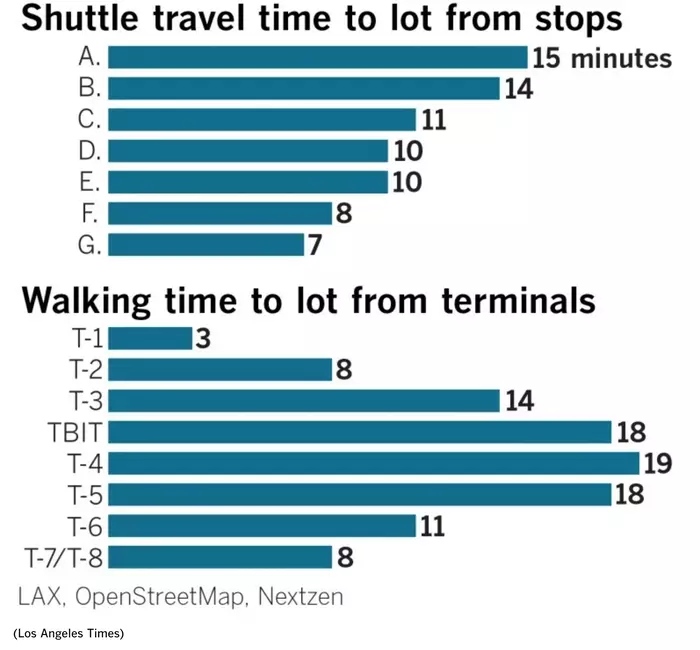 In this image, things look not so bad but in reality, on average it takes up to 15 minutes to travel there with a free shuttle or 19 minutes to walk. We have added the chart created by the Los Angeles Times above for your reference.
Passengers take on social media to share their ugly experiences.
Passengers at LAX are reporting huge lines at the lot, confused and lost Uber Ambassadors (not the ones that live in Washington DC) and angry drivers that can't find their customers.
"#LAXit doesn't work.. on a Sunday over an hour to get an Uber/Lyft or Taxi. What will happen during the holidays? And no Uber or Lyft driver will want to pick up soon. #nightmare" Posted Natalie Morales of Today Show and added a photo of the scene.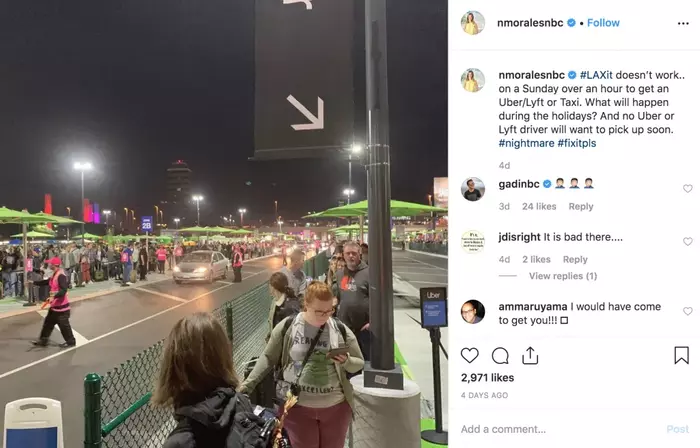 Nicole posted on her Instagram @thegarneredphoto an image with a caption reading: Everyone on the bus was gasping as the prices started to go up dramatically!!!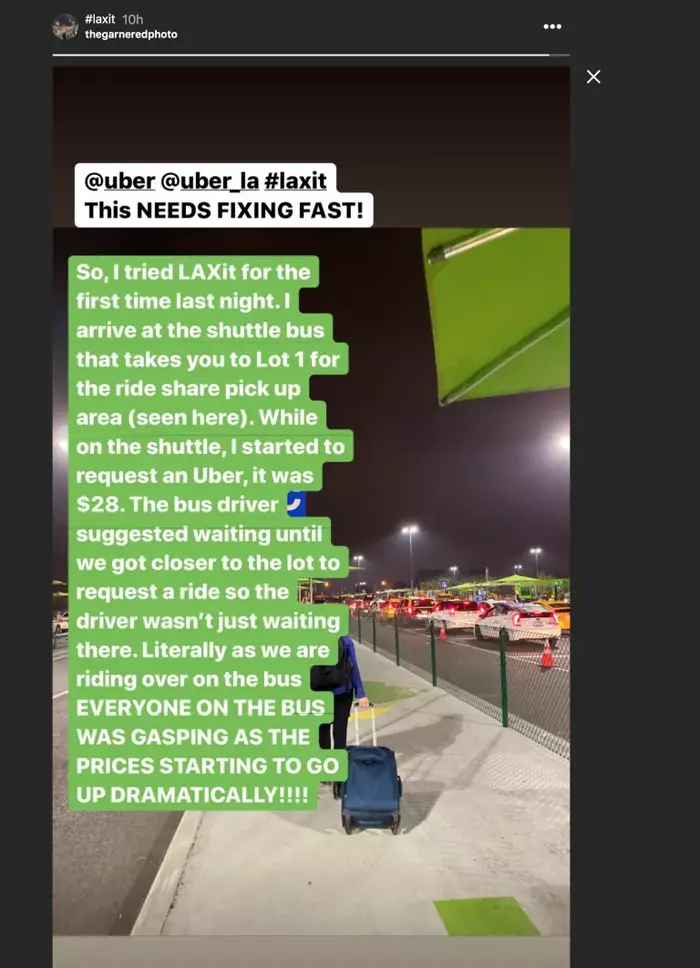 Lyft driver/vlogger shares a true story
Lyft driver and vlogger Alex did not expect his video titled "LAX GOES CRAZY WITH THE NEW PICK UP ZONES" to have almost three thousand views, or did he?
His average video views are around one hundred, but this one video has whooping +2700 views.
"I think it's because I posted it at the right time for the East Coast people and I used the right hashtags," said Alex and smiled.
"It's normal to wait up to an hour at the TNC lot but now we have to wait another twenty minutes until we meet the customer," added Alex.
He recalled a customer a few days ago that stood out the most. He chuckled and began the story. "I picked up a very special customer, a VIP the other day. She came to LA to perform plastic surgery and her client flew in from another city."
"I am going to lose $200,000 if I am late to my appointment," Alex quotes passenger's words. "She was already hours late and had spent an hour fifteen minutes waiting on a shuttle, another forty-five waiting in line and she had to fight the dragon of Super Mario – LA traffic to get to the hospital on time and perform the surgery. Not a life or death situation for sure, but more like a $200,000-lose-or-win case.
An opportunity perhaps?
The situation at LAX is dire but there must be a light at the end of the tunnel.
We spoke with Marc Freccero a YouTube vlogger that has over 7 million views on all his videos and asked him what he thinks about this whole mess.
"I think the Car Service market is going to boom," he said.
He continued "People will pay more money and go now, instead of 2 hours of shoulder-to-shoulder crammed waiting in a shuttle."
Don't have time to waste? Take a limo, executive car service from the curb
The curbside party is not completely over and people who can afford a slightly more expensive transportation option will continue to enjoy the convenience of curbside pickups. Private executive car services and limos are still allowed at the terminal curb.
DCAcar®, one of the largest Executive Car Services in Washington DC (Included in Top 10 Largest Executive Transportation Services in DC by Washington Business Journal) has expanded to the Los Angeles area and is providing rides from LAX Airport. DCAcar has a fleet of 25 late model black sedans and SUVs and will expand its fleet to 50 in the next 4 months. The company has pledged to add new vehicles to combat the chaos in Los Angeles International Airport. DCAcar also will give a FREE ride to a random customer every day. The 25th passenger each day that uses their service will not be billed and will enjoy a smooth free of charge ride to their destination. The ride must be within 30 miles from LAX to qualify for this offer. If the winner has a ride longer than 30 miles, the total will be reduced and they will only have to pay for the extra miles.
About The Author — Davit Zakaryan is the Founder of DCAcar, a Limousine service covering all local airports in Washington DC- DCA, IAD and BWI.